but the colors inside are delightful – and I've really no place to train, so let it rain, let it rain, let it rain. I don't honestly mean that, but I cannot imagine I have any control over the weather, so I am turning on the lights and feeling thankful for being dry and warm. And the colors inside ARE delightful. And our darkest day has past – well, I just heard that Carrie Fisher died and I feel like 2016 should really finish now – the year has been hard enough on everyone. New years and new projects always fill me with hope and determination.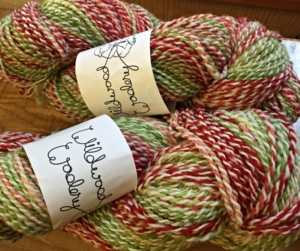 After all, until I actually take something off the bobbin/needles/loom, anything is possible. And creating that potential is what fills me with hope. So I plan on working hard to create fiber in my studio and good in the world in 2017.
My spinning is full of color at the moment. I am working on a nice little bundle of rainbow-dyed fiber created by an island indie dyer. So far, the colors are bright and cheerful and the spinning is smooth. I think she has a nice product and I promise to share the results when I finish. My Christmas yarn turned out as I had hoped – red and green with white. It still makes me think of spring and apples but maybe that is the point in the dark of winter. In any case, it makes me smile.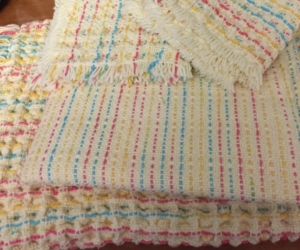 I have 3 projects on 3 looms (so I probably should be weaving right now). I have decided to turn my menorah into scarves on my rigid heddle loom so I just warped it with one of my favorite projects. My Macomber is warped with an "Echo and Iridescence" double-weave scarf I designed using the author's guidance and a local field as inspiration. (I just finished some really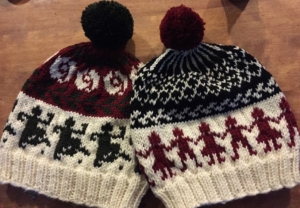 nice towels on it so that loom and I are friends for life.) My big loom is warped with white cotton and I am anxious to thread the heddles and make some progress.
And of course, my needles are clicking away softly on a pair of socks that didn't get finished in time (one sock on n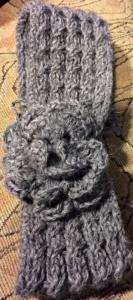 eedles and one on the package) for Christmas but it does look like I will be done before the last candle is lit on the menorah. I also have a couple of hats and some headbands. Oh, and my sweater. I think I have to get serious about finishing!!!
And then there is the work I need to do on me and on my community. I have started a yoga practice to get balanced, flexible, and strong. I have also gone through my list and contributed to the media outlets and organizations I want to support. (I also set a reminder to re-visit the list and donate more where I can as 2017 progresses.) Here is hoping 2017 doesn't live up to its billing and that we all find some way to contribute to the greater good of our communities this year. My love to you and yours as we finish out the holiday season.