I just looked back and noticed it has been almost four months since last I wrote. Springtime has arrived here in the Pacific Northwest and with it a fever of sorts. In my personal life, I have hurled myself into a new yoga practice and time with my daughter's young family (both of which I find invigorating and intensely interesting). With my knitting, weaving, and spinning, these last months have been focused on finishing projects that have been hanging around for far too long. My spinning group took over the March retreat while my weaving group finished up the last 3 sample sets for our guild. A spinning wheel and a loom left the house and were replaced by slightly more capable models of each. A very rich and full winter transition.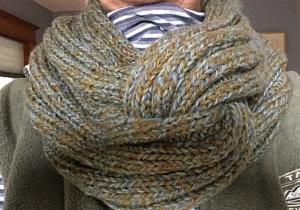 Of the many projects I determined to finish, one of my happiest was a little cowl that has been sitting in one or another yarn basket for years. It was supposed to be a shawl and I didn't have anywhere near enough yarn to make the shawl. I never did find the ball band nor did any search for the colorway ever succeed (although I certainly tried often enough). In any case, it occurred to me that I could make it into a cowl, which is really just a miniature shawl, right? There it is and I love it! I wear it all the time – very cozy and it goes with a lot of my clothing.  In addition, I have managed to finish at least 10 knit hats of various types, a sweater, and one or two more cowls. I wish I could say my "on needle" projects have all been cleared but sadly that is not the case. Still, progress…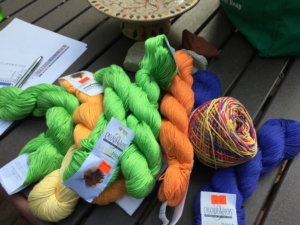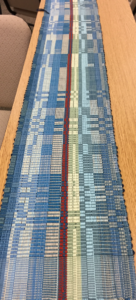 On the weaving front, my passion has hit its stride at the same time I have become more and more enamored with my yoga practice. That sentence sounds funny, and yet it couldn't be truer. I took a rep weaving class from Kelly Marshall in January and was very excited by what I learned. The class focused on Rep Weave techniques (rep weave is a warp-faced weave, the weft doesn't really show), but she taught us how to approach both the design and color for our projects. Her idea of using Frank Lloyd Wright glass designs had me very excited (my house now has several new booklets on his glass windows). Naturally, I came home from the class thinking about yoga blankets – perfect size and shape for a simple (ha!) weaving project.  My local yarn store was having a clearance on some Cascade Pima Cotton and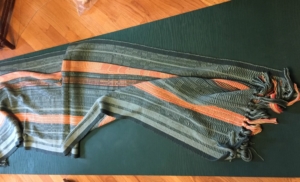 I bought the lot. My first attempt looked great with my mat, but was a little too narrow and a little too light. I was also disappointed in the definition of the design. I decided to double the thick weft and halve the thin. My most recent attempt is definitely the right size and weight. I am also pleased to say I was able to get the curved shapes I wanted (and all in the 10 shafts I have on that loom). Can you see them? I am thinking about other techniques now – maybe try a weft-faced structure. Most of the fun is in the plotting of course, but I am really happy with the feel of these blankets. And honestly I thought I hated rep weave and never wanted to even try it. How foolish of me. Of course, one can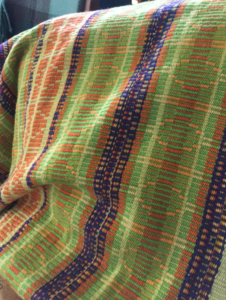 never discount the impact of an inspirational teacher. Kelly Marshall is worth the investment if you ever get a chance. At least 3 of us who took the class have started projects with our new weaving tool set.
Of course, my grandson continues to grow and make his presence felt with all of us. He is an extremely active little fellow with giant bags of enthusiasm and cheerful grins. He loves my spinning wheels (and, unfortunately, the orifice hooks) and regularly visits the weaving room to play with them. It has helped me develop a habit of disconnecting the drive band on my wheels when I stop spinning. I am looking forward to a great spring with him. And the whole area is looking forward to a little sunshine – we all have a little cabin fever. Yay springtime!