The end of the year has rolled around so quickly. Here I sit packing a suitcase and trying to think where all that time went. Even though I have, as previously noted, spent a lot of time doing rehab work on our church, I managed to get a few fiber-related projects completed. I like to focus on something with each project – a new technique, a particular color experiment, a new fiber, etc. – and these are no exception.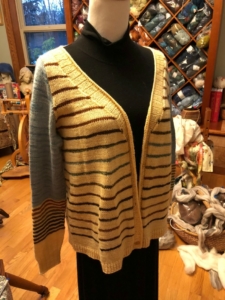 To that end, I am cleaning house. My library is overflowing and I really don't use most of the books that much so I plan to be much more selective in my book purchases. No more, "If knitting/weaving/spinning is in the title, I need it in my library." For knitting pattern books, I need to see I will make at least one more pattern than the price of the book would cost in patterns. Ravelry provides an excellent on-line library of searchable patterns and a pretty decent search engine to get within one or two degrees of the ideal pattern. I am spoiled – patterns are available with a click and I can download them to my phone for easy reference on the road. My "Funky Grandpa" sweater is a good case in point. (It is now complete and looking lovely.)
I made a few double-width blankets for our local sale and I couldn't be happier with the result. I used up a ton of yarn (although I did have to buy a unifying colorway to have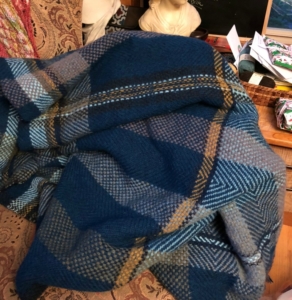 enough).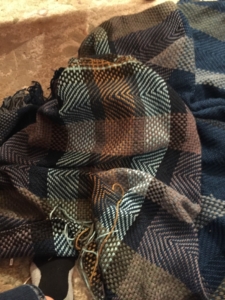 All Cascade 220 and all very cozy. I hope to make a couple more this year. I do wish there were some way to finish items like this with a front loading machine, but I have a few good friends who still have top loaders. (Thank you, Sue! – check out her classes for the new year.)
I've also had some good spinning time. I bought myself a Canadian Production Wheel that I am slowly learning. He and I have not yet fully bonded. I am sure that once I get him tuned up, we will be best friends. In the meantime, my Louet and I have been productive. She is light-weight enough to carry to spinning events and sturdy enough to handle transport. My Matchless is my first love for classes and fine, high-speed spinning, but the Louet seems better for more casual efforts. I am beginning to have quite a herd.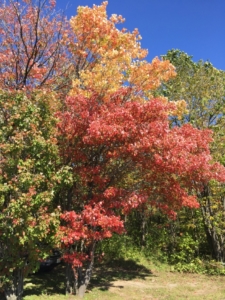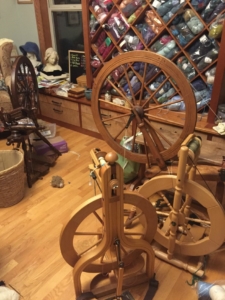 I wove a few scarves to try and achieve that beautiful fall color we saw as we trekked back across the continent. While I am happy with the results the perfect scarf continues to elude me. I am pretty sure cra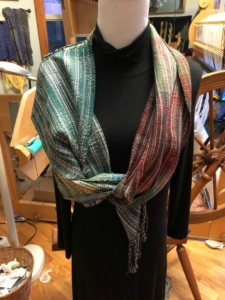 ckle is the right weave structure, and Tencel is the right material. It really is a matter of figuring out the right colors. Until that happens, I have a warp wound for scarves when I return and a plan for some dishtowels. I also have finally got a warp on Big Bertha. New yoga blankets, this time weft-faced are in my future.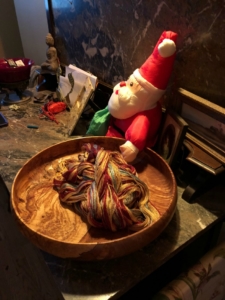 But for now, we are going to enjoy our family (growing again with a new granddaughter), a little travel, and the holiday spirit. I hope the new year brings you all peace, joy, and lots of fiber. See you in the new year.