As the days shorten and the nighttime temperatures cool, our church is slowly evolving. The colors change outside and in as the quality and angle of light changes with the seasons. I love the warmer fall tones, but I miss the warm summer temperatures.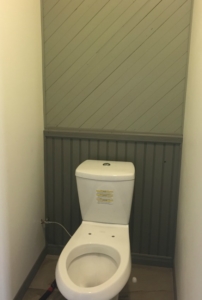 We continue to make slow but steady progress on our bathroom. Paint is on the walls and trim is up, creating a finished quality that is very appealing to someone who has been in a construction zone for a while. As things begin to come together, the floor we finished last year is looking better and better. It seems like we finished grouting the floor and left the next day so it is nice to be able to enjoy our efforts a bit. We built tiling expertise so the shower walls went up without a hitch. (Shown here during tiling and grouting – you have to wait for the final reveal.)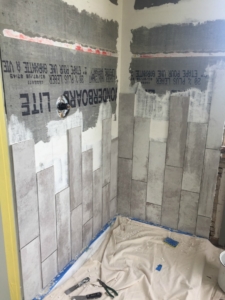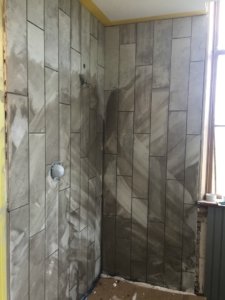 In addition to the bathroom, we ordered our kitchen cabinets. It took a lot of discussion and negotiation, but I think our footprint fits the church perfectly.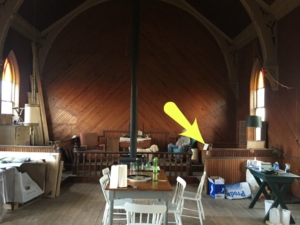 We originally thought we might make use of the altar area as part of the pantry, but it turns out the wooden platform on the kitchen side of the altar wasn't original.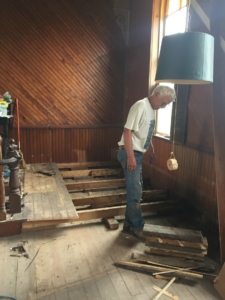 After tearing that out and replacing the floor where the original altar stood, we have a much more open area and a great place for a dining room table. I can't wait to see the floors sanded and refinished.
Oh, and the doors! They are no longer that horrid brown/tan/beige color. I found a lovely dark blue (Observatory in Behr paint speak) that shows off the detailed woodwork. It makes me smile when I look at it. My penchant for color (a dash here, a splash there) will be satisfied for a time at least.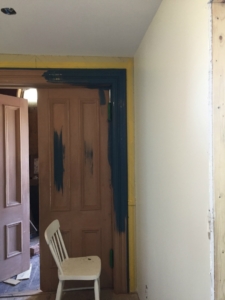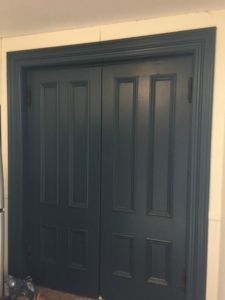 With all this construction, there hasn't been much time for the fiber arts. I am making slow but steady progress on my Funky Grandpa sweater. The first sleeve is almost half complete! I also managed to reassemble my rigid heddle loom which traveled across the continent with an alpaca project. That project was originally intended to be all handspun. then I decided to warp with some commercial alpaca I had and save the handspun for the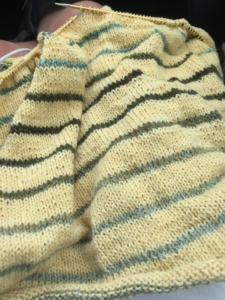 weft. Sadly, once I had the whole thing warped, I didn't like the way the handspun looked with the warp and ended up choosing a commercial alpaca for the weft as well. I guess I'll just have to start over with my handspun.
And lest you worry that we are all work and no play, the beach has beckoned more than once. We make sure to heed its call. After all, Toby needs his play time (see him after a swim below).