I am nearing the finish of the rep weave yoga blanket mission I embarked on a couple of months ago. It has been a great journey – the interplay of color and materials, the best sett and technique for weaving, and the feel of the finished product when actually in use. My next leg of the journey will explore a new technique, so I think it is time to summarize this leg.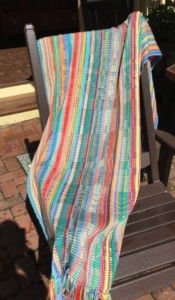 As I mentioned last time, rep weave had not been on my radar as a method for creating blankets. It has, however, turned out to be highly satisfactory. Especially so because the UltraPima cotton from Cascade Yarns is a softly spun cotton with a slight sheen and comes in a wonderful array of colors. I have been pleasantly surprised with wearability of the finished cloth. Its only downside (minor) is that is creates an enormous amount of lint while weaving and in the first washing/drying cycle. The fabric is soft and delightful to touch. The colors stay vibrant even with washing.
Rep weave is a warp
-faced weave with an almost fully covered weft that alternates a thick and a thin for each pattern pick. I used a sett of 24 ends per inch (really around twice as much as one would sett for normal cloth). For the weft, I used one strand of the pima cotton and one strand of Lilly Softspun (no longer in production unfortunately) for the thick and 10/2 cotton for the thin. For each blanket, I tied on to the warp from the previous blanket and lashed onto the front beam. It saved time and limited loom waste. The pattern I developed used 10 shafts – check out the teal blanket to see the flexibility in design that allowed me. The blankets are 90″ long and 28″ wide. When folded, they provide a very comfortable seat for meditation or as head support/warmth for savasana. The blankets aren't light – the finished blanket weighs 2 pounds, 5.4 ounces – but I actually like that.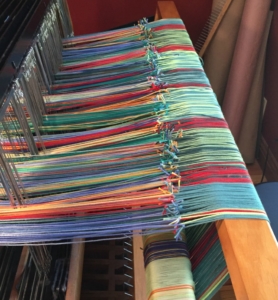 I do have to admit that these items are not something I could make for sale. While they are fun to make, and I am pretty sure there would be a market, it takes 15 skeins to make a blanket. At $9.50 a skein, even without labor I think the price is too high. So I am looking at other fibers (like cotton/bamboo) and other suppliers to see if I can find similar yarns for less. The same set-up would also produce a really nice baby blanket or a lap blanket. In any case, I will finish one more and then take a break while I explore other options. It is beginning to be outside time (if it ever stops raining) and spinning and other more portable efforts might have to move to the top of my to-do list. But my new-found enjoyment of rep weave won't be forgotten (placemats and table runners anyone?).