Summertime and the weaving is a little scant. But the travel and inspiration are at a peak. Travel is a great way to be reinvigorated. Here are just a few updates from the road.
I hit the road first to attend this summer's biannual ANWG conference in Victoria, BC. Vancouver Island was gorgeous – Butchart Gardens provides color and general lushness, the wineries provided some great tastings, and the conference was attended by lots of great weavers. We visited several vendors at the conference marketplace: for me the most significant one was AVL. I got tips on the care and feeding of "Big Bertha,"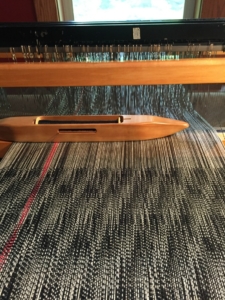 my mechanical AVL loom. Their newer looms are, of course, technologically improved and tempting. However, my loom will work much better with the purchase of some cardboard bobbins. I even found a supplier that had these at a reasonable price so I could order 50 and be ready to warp my loom as intended. As soon as I get back, the warping will commence!
Since it is summer in the Pacific Northwest, it is visitor time. Our house was full of family and friends for the month of July, enjoying our best and most colorful season. Tromping down the mountain trail (Mt. Rainier was in fine form for mid July), we enjoyed a profusion of wildflowers. Our garden loved our winter rains followed by the summer sun. We paddled and hiked, ate good food, an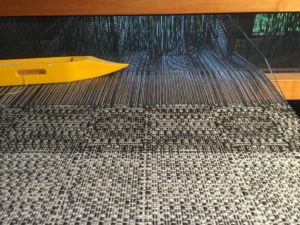 d enjoyed late night natters.
In between, I did manage to weave a couple of scarves inspired by the Echo and Iris book our group has been studying. The first of these was a moiré pattern I created by following the steps in the book. I am more fond of curves and circles so I created my own threading and dove right in. Unfortunately, the treadling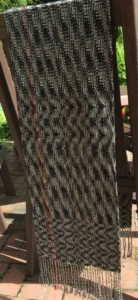 patterns I used left me with relatively long floats every pattern repeat. I could have fixed it easily, but this was a sample – experimenting with the black and white as well as the moiré look.  My second effort was based on the turned taquete in the book's later chapters. I have a 10 shaft loom so I designed something that would use all my shafts. this time I used a grey scale in the warp (white, light grey, dark grey, and black). I chose a threading concept based on the 4-color echo threadings in the earlier chapters of the book and treadling similar to that in the taquete section. Both scarf patterns sampled well. For the weavers am
ong you, I used a sett for both scarves of 24 epi. Both tencel (first scarf) and bamboo (second) produced a scarf with good hand and a nice touch. But now I am ready for some color. Both looms will be waiting for me when I return.
We are on the road again for our major expedition. On this two-month trip, a rigid heddle loom and several knitting projects are accompanying me. Already at our church are the spinning wheel and small

tapestry loom I left there last year. I have fiber for ~20 people in the car – you never know, really, what will appeal, do you? Last, my computer has had a tune-up with new memory and a solid state hard drive. We are ready to roll! My car effort is a sweater (top-down in construction using fingering weight yarn on size 4 US needles) and I am halfway down the body. See you on the other side of the country!